Welcome to the 2nd edition of Sh*t men say hosted by Danae over at
Duh Danae
& Amanda with
Voyage of the MeeMee
.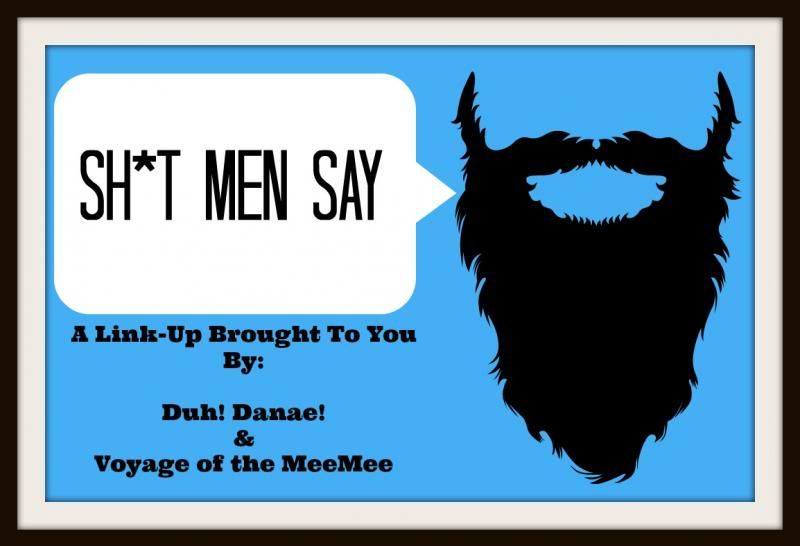 Today I'll be sharing an example of how Tbone and I talk to each other on a normal basis....
For some reason we only speak to each other in a Russian accent (sometimes Ukrainian/Polish/Italian)... The kids don't even notice it anymore since it is a daily occurance. Often times, we find ourselves talking like that in public (ex... me talking to the clerk at Target). I don't know why we do this... we just do... Don't judge!!!
Anywhoooo, we also do a little weird thing and add the words "face" and "pants" to almost anything.
Example:
Tbone as he's leaving for work at the ungodly hour of 4:15- "I love your face... pants..."
This has somehow escalated to now adding multiple "face" and "pants" to things...
Example:
Tbone to Boogie last night as we were tucking her in to bed- "Goodnight, I love your face... pants... potato head, pumpkin patch face... pants..." (all with a Russian accent)
This resulted in Boogie laughing so hard that she couldn't catch her breath... and that ladies and ladies is my Sh*t Men Say...
He's probably calling this guy "lizard pants face"