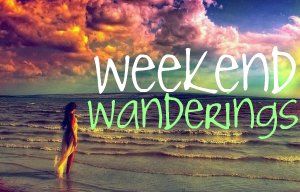 I joined this link up called Weekend Wanderings hosted by Shane over at Whispering Sweet Nothings.
We spent our Friday and last day of Spring Break at the San Diego Zoo...
We love the zoo... we have passes and try to go as much as we can since we only live about an hour away. Unfortunately we haven't been a whole lot this year. The great thing about passes, is that you don't feel like you have to see everything and spend the whole day.
Today we left early so that we could beat the crowd.
It was a perfect day, only about 60 something degrees so the animals were a little more active.
Bottom left- The elusive fishing cat that I have never ever seen out before. Bottom right- my cuties.
Top left- the kiddos at the new Koala exhibit, Top right- Super awesome rhino!
Bottom left- adolescent giraffe, Bottom right- the kiddos hanging out with this hippo.
(I guess earlier this week the mama hippo had a baby but it passed away yesterday. They aren't sure what happened yet. So sad!)